While our backyard is Washington, DC, Maryland and Nor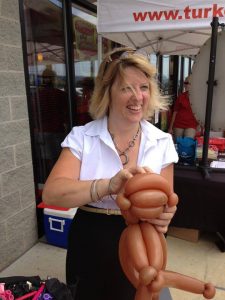 thern Virginia; our art and entertaining skills have taken us all over the world!  Some of our favorite places are Las Vegas, the White House, and China!
What makes our DMV Entertainers the Best?
We have been enhancing events since 2005. In that time, we've accomplished more than a few things that we are proud of!
We have won at international conventions sponsored by one of the Top balloon distributors in the world!
We have taught nationally and internationally. We traveled to China to share balloon tying with people from other countries!
We have won the hearts of those whom we have performed for...whether it's the 65-year old Grandfather who received a Chiquita Banana hat for him to wear....or his 3-year old Granddaughter that was wearing an adorable smile to match her balloon backpack from Dora the Explorer!
One entertainers competed in competitions in Boston, Nashville, Chicago, New York!
Our balloon twisters have been to the White House three times and performed at four Presidential events.
Call us at 484.316.0471. Fall in love with our entertainers and their personalities!
Find out for yourself why everyone loves our event entertainment specialists!